KVM Forum 2010: Difference between revisions
From KVM
Line 55:
Line 55:

! Title !! Speaker !! Video

! Title !! Speaker !! Video

|-

|-

| [[Media:2010-kvm-forum-Liguori_keynote_v1.pdf | Keynote ]] || Anthony Liguori ||

| [[Media:2010-kvm-forum-Liguori_keynote_v1.pdf | Keynote ]] || Anthony Liguori ||

|-

|-

| [[Media:Vhost_virtio_net_need_for_speed_2.odp | vhost-net and virtio-net: need for speed ]] || Michael S.  Tsirkin ||

| [[Media:Vhost_virtio_net_need_for_speed_2.odp | vhost-net and virtio-net: need for speed ]] || Michael S.  Tsirkin ||
---
Revision as of 10:13, 24 September 2010
Information on the upcoming KVM Forum 2010
KVM Forum 2010 (Aug 9-10, 2010)
The place to be if you are interested in or involved with KVM development. Come together, talk about the current and future state of KVM. Learn. Share ideas. Influence the future of KVM.
CFP
KVM Forum 2010 CFP (now closed, see Schedule)
Registration
The KVM Forum 2010 is co-located with the Linux Foundation's LinuxCon in Boston. Registration for the KVM Forum also includes full entrance to LinuxCon.
Hotel & Travel
The KVM Forum 2010 will be held with LinuxCon at the Renaissance Boston Waterfront.
For all the details, including conference hotel discount and online reservations, check the LinuxCon Travel and Hotel page.
Presentations
The videos will be uploaded in batches during September as editing is completed.
Monday, August 9th
Tuesday, August 10th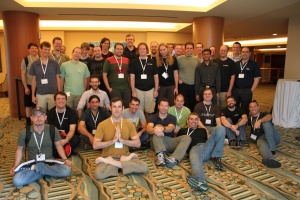 Back Row: John Cooper, Jan Kiszka, Bill Burns, Kevin Wolf, Marcelo Tosatti, Gerd Hoffman, Jes Sorensen, Markus Armbruster, Vadim Rozenfeld, Adam Litke, Don Dutile, Daniel Berrange, Richard Jones, Rik van Riel
Middle Row: Chris Wright, Alex Graf, Andrea Arcangeli, Luiz Capitulino, Justin Forbes, Juan Quintela, Glauber Costa, Amit Shah, Alex Williamson, Ricardo Matinata
Front Row: Lucas Rodrigues, Eduardo Habkost, Paolo Bonzini, Gleb Natapov, Zach Amsden, Avi Kivity, Dor Laor, Anthony Liguori, Barak Azulay, Andrew Theurer, Dustin Kirkland, Ayal Baron